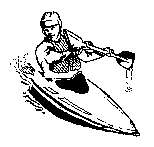 Tävlingsregler
Rodeo paddling
Rodeo (Freestyle Kayaking)

What´s it about?

Rodeo or better refered to as Freestyle kayaking is the newest and fastest growing discipline of white water kayaking. As the name freestyle depicts, it is the white water version of freestyling with Ski´s, skateboards and snowboarding. Infact many well known pro snowboarders such as Dan Gavere form Idaho USA are crossing over to this new hi energy skilled sport in the summer.

97 will see the 4th Bi annual world championships on the Otawa river in Canada next autumn. It is expected to have well over 250+ competitors from most paddlable countries such as New Zealand, Japan, and Sweden. The sport itself is soon to turn semi professional with top paddlers receiving more & more support every season from kayak and paddle manufacturers plus companies such as Swatch and Kavu clothing.

Classes include K1, closed deck C1 and open C1. With both Male & Female divisions. The fine art of low volume kayaking better known as squirting where paddling becomes very much 3 dimensional sub aqua performances normally have the world championship at the same time following the finals in the rodeo competition.

Cartwheels, Enders, McTwist and, Flip wheels are some of the spectacular moves that get the kayak vertically moving in the recirculating body of water, better refered to as THE HOLE. If the paddler keeps the kayak in the hole while doing these moves then it is known as a retentive move, scoring very highly. The key to being successful is to try and keep the boat moving over vertically, with style and a variety of moves in a short period of 1-2 minutes.

In Sweden & Norway this year a series of three events took place forming the Unofficail Nordic Series in Rodeo organised by Kajaktiv Ab. The first two events were held in the Vindelalven and Västerdalsälven in Sweden. The final was in southern Norway in Evje near Kristiansand. Over 70 different competitors competed in the series with classes for novices to compete in.

A new series for 97 will soon be finalised with dates including a event in Finland, Norway & Sweden. A Swedish championship is also being planned. For up to date information people can contact Kajaktiv Ab Tel 0933 131 75. Clinics are also being planned for aspiring paddlers with coaching from top Rodeo stars such as Arnd Schaftlein.

---
Tävlingsregler för Nordiska Rodeo Cupen

Varje deltagare får 3 åk x 1 min och 30 sek i valsen.
Den tävlande får en signal när det är 30sek kvar och när tiden är ute.
Efter att tiden är ute har den tävlande ytterligare 10 sek på sig att göra ett så kallat exit move. ( = lämna valsen med en Ender av något slag.)
Ett åk är 1 min och 30 sek och tiden räknas även om den tävlande befinner sig i bakvattnet bakom valsen. Om bakvattnet lämnas är tiden automatiskt ute
En simtur betyder att åket är över och att åket inte räknas. ( Detta gäller inte för nybörjarklassen.)
De två bästa åken räknas och högsta poängsumman vinner
Poäng och bedömning

1 POÄNGDOMARE
Ger poäng för varje trix enligt följande:


| | |
| --- | --- |
| Skärande svängar på våg | 1p |
| Paddeltrix | 1p |
| Baksurf | 2p |
| 180¤ valsvändning | 3p |
| 360¤ valsvändning | 5p |
| Ender bakåt / framåt | 5p |
| Piruett | 7 |
| Rententive* | 9p |
| * Vertikalt trix där utövaren landar tillbaka i valsen. T ex en "hjulning" (cart wheel ) | |
| ______________________________ | _______ |



2 SURFDOMARE
Domaren ger 2 poäng för varje 10 sek på vågen eller valsen.



3 STILDOMARE

Ger poäng för helhetsintrycket. Detta grundar sig på teknik, kontroll, underhållningsfaktor och attityd.
OBS! Glöm inte bort att le! Max 10 poäng


Nordiska Rodeo Cupen Poäng

| | |
| --- | --- |
| 1 | 100p |
| 2 | 80p |
| 3 | 70p |
| 4 | 60p |
| 5 | 59p |
| 6 | 58p |
| 7 | 57p osv |
| ________ | ___ |




---

Webmaster@itadventure.se
Copyright © 1997 Mikael Eklund